Minecraft Screenshot Shifter
Move, copy or delete Minecraft Screenshots with a keypress or automatically.
Minecraft Screenshot Shifter helps you to move, copy or delete screenshots fast with keys or completely automatically.

Example: If you took a good screenshot you can press F10 and the screenshot gets copied on your desktop.
Or: You took a bad screenshot and you press F7 and it gets deleted.
This is a way faster than opening your screenshot folder!

How it works:
You set a target directory, a hotkey and whether you want to move, copy or delete the screenshot. You can say that every screenshot should be moved, copied or deleted too.
Help
Do you have a problem with this software?
Open help
Screenshots: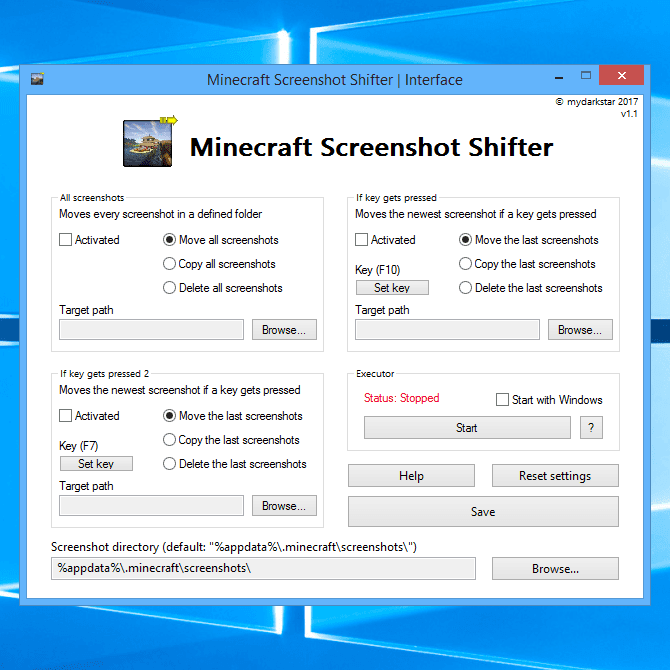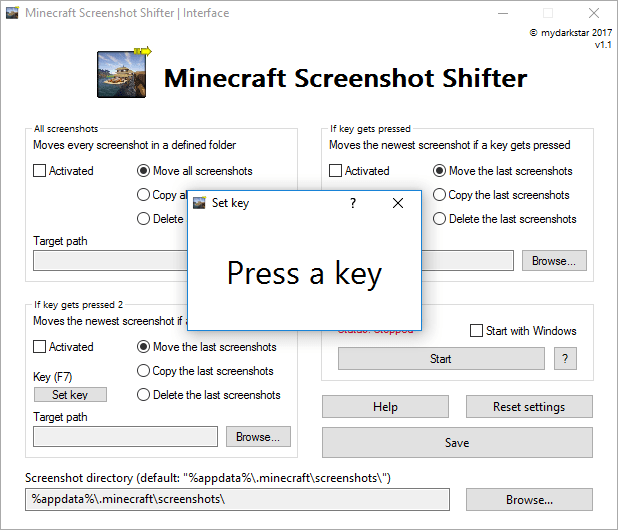 alternative: Without installer
Version:
1.1
Language:
English
Category:
Tools
Requires:
Minecraft
Operating systems:
Windows XP,


Windows Vista

,


Windows 7

,


Windows 8

,


Windows 8.1

,


Windows 10

Size:
2 MB
Published:
05/02/2017
Initial release:
13/01/2016
Price:
Free
Scanned for viruses!
Virusscan of this software
Result: No virus

Changelogs - Checksums